Yahoo- "Rex Ryan will introduce Donald Trump at a rally Monday night in Buffalo.Ryan said he wasn't necessarily endorsing Trump, the controversial Republican candidate. He was just introducing him at a rally."I'm going to introduce him, that's a true statement," Ryan said at a press conference, according to Vic Carucci of the Buffalo News. "But I'm not going to say who my endorsement is and all that stuff. I will say this, (New Jersey governor) Chris Christie was my guy one hundred percent because we were the lap band of brothers. We both had that lap band and we are really pretty close."
First off, has there ever been city more perfect for a man than Rex Ryan and Buffalo? Rex screams Buffalo. Ask me to describe the typical Buffalonian and gun to my head, I say fat, white, boozers, who likes to get a little wild and maybe lick a couple toes here and there. Well, what do you know, that's Rex. The guy was MADE for Buffalo and in two seasons became the Don of the disgusting Bills Mafia. So, when the Donald comes into town and needs someone to get the people pumped and rowdy, who better to call upon then the King of Buffalo himself. But how does a man gain so much power of a small, depressed city in only a few years? Two steps: Become One of The People and Load Your Arsenal.
STEP ONE- Become One of The People. Transform into a Buffalonian:
New Bills paint job? Check.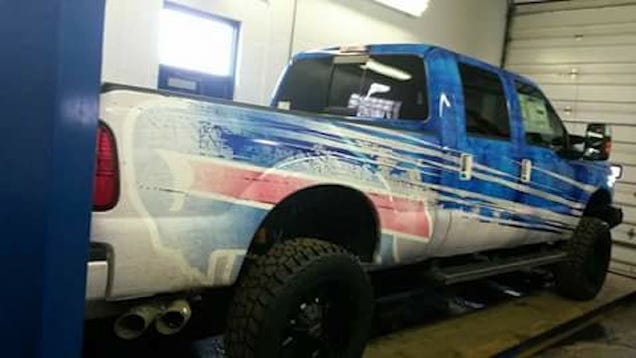 New Bill's ink? Check.
New wardrobe consisting of only hockey jerseys ? Check.
STEP TWO – Load Your Arsenal. Bring in reinforcement.
Introducing the GRUESOME TWOSOME
Rex and Rob are money. Dudes being dudes. Two brothers living the life of coaching a NFL team together and on their time off, going to hockey games and putting down God knows how many hot dogs, nachos, and Bud heavy's. Can you imagine the look on the poor guys face after waiting in line for the bathroom at a Sabers game and seeing one of the Ryan bros step out the stall? Probably looks like a crime seen. Especially going in after Rob, who must be in his 4th trimester by now. But those two steps is all it takes in becoming a King. I mean seriously, who else could Trump pick that better represents the people of Buffalo then Rex? No one. Hopefully, with Rob on his side now he can lead the Bills to the playoffs because those fans need it. I can't even fathom what would happen if they actually won a Super Bowl. Place would burn down to the ground. Only things left untouched would be huge (no pun intended) statues of Rex and Rob on Main Street. Prayers out to the rest of the league, the boys are back in town.
P.S- How the hell does the NFL not pick the Bills to be on Hard Knocks. I know Rex was already on and deserved a Emmy for his performance. But seeing both Rex and Rob behind the scenes and uncut would be mind blowing. "Now, lets go eat a goddamn snack."